Access to Konan University Hirao Memorial Seminar House
MAPLL-TCP-TL 2019 is hosted by Konan University, Kobe, Japan, and the venue is Hirao Memorial Seminar House (平生記念セミナーハウス). Please note that Hirao Memorial Seminar House is NOT on-campus, but is off-campus, which is located a few kilometers away from the main campus.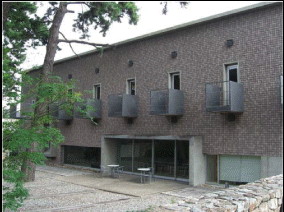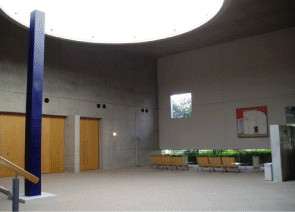 Address: 2-29-15 Sumiyoshi-Honmachi, Higashi-Nada, Kobe, Hyogo, Japan
兵庫県神戸市東灘区住吉本町2-29-15
---
Walking directions FROM nearby train stations
There are two buildings on site, and the building in the south (downhill) is the venue.
Hirao Memorial Seminar House is about 700 meters (0.5 miles) Northwest of Sumiyoshi station (JR Kobe Line) and 700 meters Southeast of Mikage station (Hankyu Kobe Line), about 10 to 15-min walk.
From either station, the directions are relatively simple, but is a bit hard to explain because the building is in a residential area with no prominent landmarks. You may become worried as you follow the path because you will have to go through a residential area with no shops or restaurants, but have a faith in your sense of direction, and you'll successfully get there!
From JR Sumiyoshi station: Go Northwest
From Hankyu Mikage station: Go South and then East
From Hanshin Mikage station: Don't use Hanshin Railway, it's far!
---
Directions TO local train stations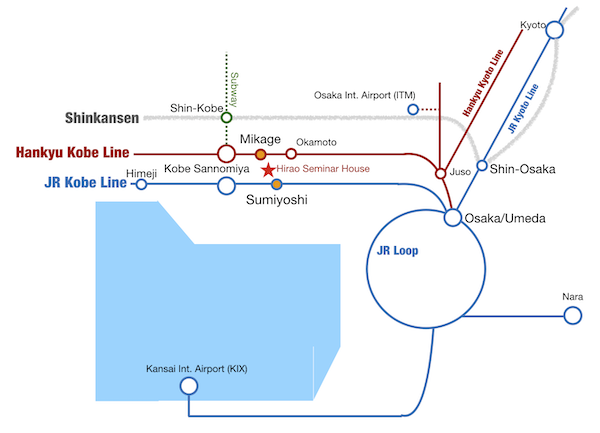 JR Sumiyoshi station

is about 20 min from Osaka station and 10 min from Sannomiya station. Rapid trains (no additional cost) and local trains stop at Sumiyoshi, but NOT Special Rapid trains. [JR West route map / JR Kobe Line in Wikipedia]

If you are coming from Shin-Osaka via Shinkansen, using JR Sumiyoshi is the easiest way.

Hankyu Mikage station

is about 25 min from Umeda station and 10 min from Kobe Sannomiya station. Only local trains stop at Mikage. [Hankyu Railway route map]

From Kobe Sannomiya, take a local train: Mikage is just 4 stops away.
From Umeda, taking a local train to Mikage is time-consuming, so it's better to take a limited express (特急) (at no additional cost) and change trains at Nishinomiya-kitaguchi for a local train.
Note: It's a bit confusing but Hankyu Umeda station and JR Osaka station are very close to each other, and locals often regard them as the same destination. When they say "I'm going to Umeda", it could mean that they are heading for the Umeda station or the Osaka station. The district itself is usually called Umeda, because Osaka could refer to broader areas and thus is ambiguous.
Note2: Confusingly again, Hanshin Railway, which runs parallel to JR and Hankyu, also has stations named Sumiyoshi and Mikage, but they are not close to the venue. Do not take Hanshin.
---
Directions from Shinkansen stations:
From Shin-Osaka: Take a JR straight up to Sumiyoshi. (Take a Rapid train; if you take a Special Rapid train, change trains at Ashiya because Special Rapids won't stop at Sumiyoshi.)
From Shin-Kobe: This would be a bit tricky because you need to take a subway first, to Sannnomiya (just one stop away). From Sannomiya (which is the heart of Kobe City), you can take a JR to Sumiyoshi.
---
Directions from airports:
From Kansai International Airport (KIX): You may want to take an airport limousine bus either to Osaka, to Kobe Sannomiya, or to Nishinomiya (JR Nishinomiya or Hankyu Nishinomiya Kitaguchi; but NOT Hanshin Nishinomiya), and then take either a JR to Sumiyoshi or a Hankyu railway to Mikage.
From Osaka International Airport (Itami Airport) (ITM): You may want to take an airport limousine bus to Hankyu Nishinomiya Kitaguchi, and then take a Hankyu railway to Mikage.

Alternatively, you can take a Monorail to Hotarugaike, and then take a Hankyu to Juso, and then to Mikage.
---